On the 9th of september 2006 the International Schapendoes Federation (ISF) was founded by the Schapendoes Clubs of Denmark, Finland, France, Germany, Luxembourg, the Netherlands, Norway, Sweden and Switserland.
Goal of the ISF is to facilitate an optimal cooperation between the Schapendoes Clubs in order to preserve the health, breed type and good character of our Schapendoes all over the world.
Mutual Schapendoes Databank
Dear Schapendoesfriends,
"Yes, we can!" is a motto from yesterday. As of late we can say; "Yes, we did!"
After a meeting of the VNS and IGS in Molenhoek on Good Friday I may inform all Schapendoesfriends at home and abroad that we now have a professional data program that shall prove to be future oriented for the breeding of our Schapendoes.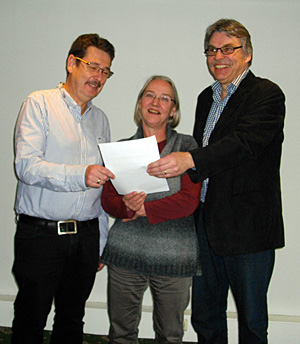 Finally we succeeded in founding an international cooperation which can look back on more than 60 years of experience in breeding Schapendoes. Beside the VNS and the IGS, the Swiss and the Danish club join in! We very much hope that other clubs follow our invitation to cooperate.
This mutual databank offers the chance to get a reliable and exceedingly essential, dense and furthermore growing information basis of data relevant for breeding which shall allow to breed our Schapendoes tomorrow with the highest degree of security thinkable.
Shortly I shall be able to report in more detail about the future procedure.
But already today I rejoice to be able to announce this fact.
I certainly do not want to close these few lines without explicit thanks to all who contributed to the success of this mutual enterprise but before all I thank our friends of the VNS and the IGS of the Swiss and the Danish club.
Many thanks to all & best regards.
Dr. Hans J. Jacobs